200 & 300 HOURS YOGA TEACHER TRAINING IN INDIA
Welcome to North India
Our Yoga Teacher Trainings in India will be hosted at Akshara Yoga School. The location of Akshara Yoga is the village Neoria in the province of Uttar Pradesh. It is an organic farm lying at the foot hills of the Himalayas. Away from the touristic "yoga bazaar" that usually happens in Risikesh where you can find a yoga school in every corner.
In Akshara Yoga School we'll have the opportunity to live the traditional ashramic way. This is a unique experience, helping you to dive deeper into your training. You are solely focused on learning, it is therefore simple and minimalist, without unnecessary luxuries.
From ancient monks and sages who developed the primal yoga practices till today Yoga philosophy is deeply rooted in the culture of India. Our Lead Trainer, Christos, has close ties with India since 2004. He lived there for about a year and later he has traveled back several times to continue his journey.
Read more about this well crafted, intensve and residential 200 & 300 HOURS Yoga Teacher Training Retreat in India.
Join Us And Experience
The Magic of India.
Become a Certified
Ayama Yoga Teacher.
DATES
NOVEMBER 2023:
From 5th to 28th
200 HOURS Yoga Teacher Training
DECEMBER 2023:
From 5th to 28th
200 HOURS Yoga Teacher Training
APRIL 2024:
From 5th to 28th
300 HOURS Yoga Teacher Training
ALL INCLUSIVE
Tuition fees, Accomodation, Breakfast, Snack, Dinner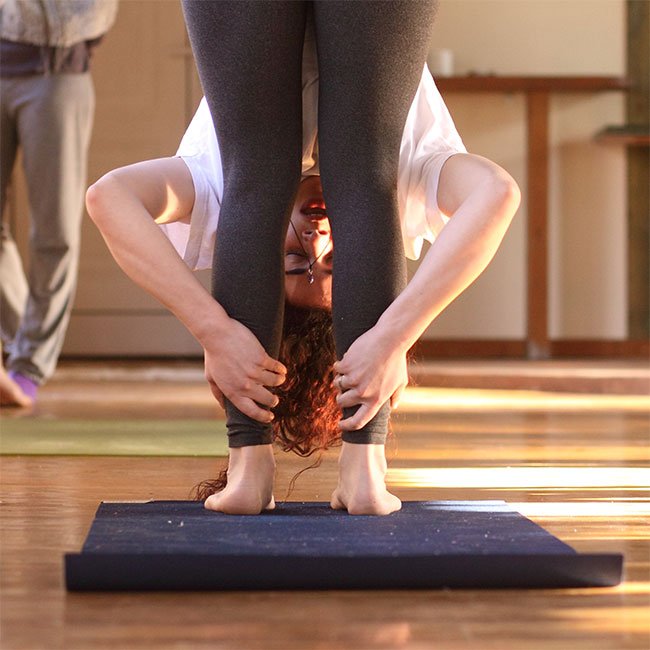 HIGHLIGHTS
Small Groups 12 persons max.
23 Days or 27 Days depending on the course
2 Day Trips (optional)
1 FREE Day per week
2 Teacher's Manual Included
Transport from local airport or train station
Access to Our Digital Library
Registered in Yoga Alliance
A Life Changing Yoga Teacher Training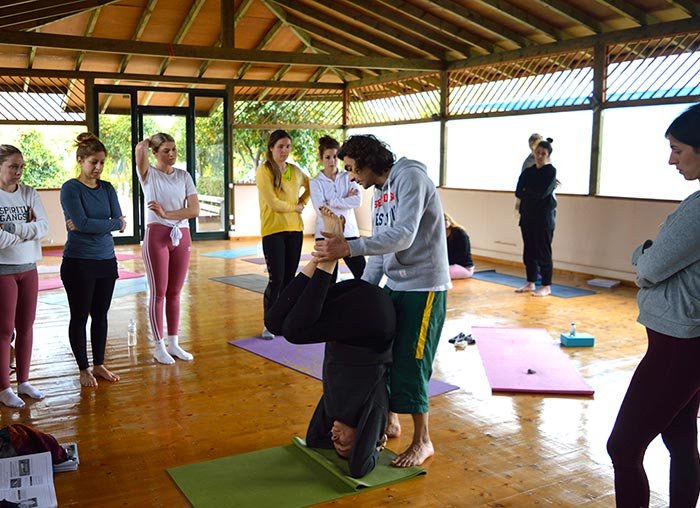 The Art of Yoga
Our 200hrs Yoga Teacher Training is based on Hatha & Vinyasa Yoga and is a highly transformational immersion into the essence of Yoga. We emphasize on breath awareness, realization of energy flow and body movement.
At Ayama Yoga Training we lay the foundation for an experiential process for leading to self-awareness and understanding of the core principles of Yoga. On this inner journey of transformation and growth we introduce you to the deep philosophical and spiritual roots of yoga. We are commited to be right next to you at every step on the way to your progress.
Our courses are open-minded and non-dogmatic, allowing you to explore what works best for you while still benefiting from an ancient wisdom which has been tested over thousands of years. During this yoga teacher training we'll provide you the confidence and skills to teach yoga professionally or for personal growth.
Read more about this well crafted, intensve and residential 200 HOURS Yoga Teacher Training Retreat. .
Daily Schedule
7.00am – 9.30am
Pranayama & Asana practice
9.30am – 10.30am
Breakfast break
10.30am – 12.30pm
Yoga Theory or Anatomy
12.30pm – 14.30pm
Practical Analysis of Asana
14.30pm – 16.30pm
Snack Break & rest
16.30pm – 18.30pm
Workshop & Teaching Practice
18.30pm – 19.30pm
Evening Satsang
19.30pm
Dinner & Sweet dreams
Note: Program hours may slichtly change to serve better the program
"Yoga is the journey of the self,
through the self,
to the self."
The Bhagavad Gita
Accommodation
---
We provide comfortable living with all the amenities to make life easier for students. A pleasant living experience makes a delightful learning experience. Students will share twin beds comfortable rooms with attach toilets equipped with modern fixtures.
 We provide hobby and recreation activities for students in their free time such as Indian cooking, painting (traditional madhubani), organic kitchen gardening etc.
 The price is for a twin shared room: 2 single beds. Roommates will be assigned to all shared rooms and can be mixed genders, if required.
Healthy Nutrition
---
A rich biodiversity and ecology preserved in the farm by following the agronomy best practices along with dairy farming, ensures healthy air, water and soil that nourishes the farm. The school campus has more than hundred different types of plants and trees.
All this secures a healthy living in school where we produce and serve healthy food for all the school residents. Most of the cereals, vegetables and fruits are grown organically in our own farm. Along with this we also serve milk and milk products from our own farm fresh unadulterated milk. Pure and healthy diet is important for yoga learning.
Every day is included breakfast, afternoon snack and dinner, except for the days off. We follow vegetarian diet (dairy products and eggs included), using only fresh, local, organic ingredients.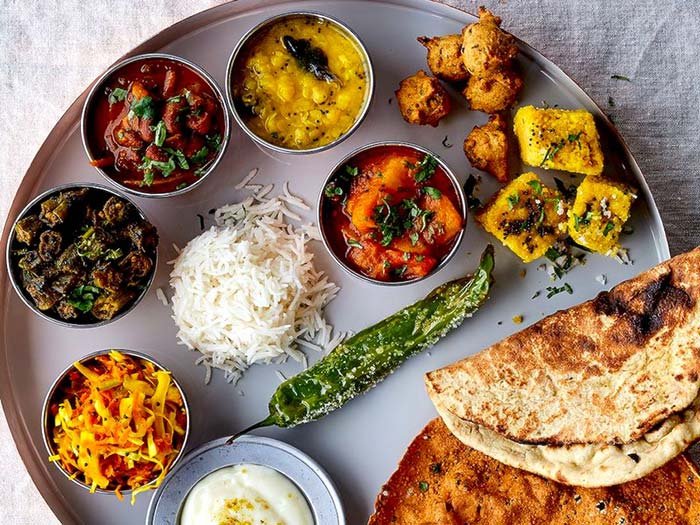 Extra Activities
Pilibhit is located on the sub-Himalayan plateau in the foothills of Shivalik range. Because of its geographical advantage Pilibhit district is home to rich forest and water bodies. It has several scenic places which can be perfect gateways for outings.
Serene and surreal, the beach is on the Sharda sagar Dam. A walk on the sand in the early morning, around dawn and in the evening, before sunset gives you great connect with nature and its beauty. Lot of spots to click good pics. Not crowded or commerciliased
Situated at the foothills of the Himalayas on the Indo-Nepalese border, this scenic location holds the abode for various rare species of flora and fauna. A favourite spot for travelers, explorers and wildlife enthusiasts, it is a sure shot haven for sighting the amazing concentration of exotic animals it houses. Pilibhit Tiger Reserve is one of India's 41 Project Tiger reserves and one of the few well forested districts in Uttar Pradesh. The Pilibhit Tiger Reserve is one of the finest examples of the exceedingly diverse and productive Terai ecosystems. It is home to a habitat for over 127 animals, 556 bird species and 2,100 flowering plants.
You Are Invited,
to Deep Dive into
Your Practice.
Read what they say about us
I searched a lot to find the right place to do my yoga training and Christos from the first moment made me feel safe as I had little experience. It was the best choice I could have made… It opened up roads that I didn't know existed… The whole team is amazing, very well organized and the retreat in all is a unique experience!
I attended the 200-hour training program in 2018 after an extensive search to find the right place and people to help me discover the world of yoga beyond mat practice. Christos was that person who, from the very first conversation, made me feel warm and confident about what would follow.
I completed my training in Ayama 2 years ago. I would go back in time and relive it if I could. Knowledge with substance, love and care. Proper guidance for development and support. For me, now, Ayama is a nest that I can return to whenever I need to.
A yoga training program that gave me the strength, in addition to being a lifelong student of yoga, to also share the path I walk and continue to learn. I am thrilled with the experience and highly recommend it. I thank all the teachers of Ayama Yoga House for the endless knowledge they generously share.
I feel deeply grateful to have had the opportunity to complete Ayama's teacher training program. The essential knowledge, the effective method, the holistic approach and of course the wonderful teachers helped me delve into the philosophy & practice of authentic yoga
Each teacher with their own gifts, always willing to help us. They supported me to overcome my physical and mental obstacles. Thank you for everything!
INVESTMENT
200 HOURS
1850€ Twin Room
300 HOURS
2600€ Twin Room
Deposit 500€ to book your spot
Full Payment 30 DAYS prior to course start
We accept 12 persons maximum
Payments & Cancellation Policy
Payment Methods, Cancellations, Refunds
Terms of Use & Conditions
Terms & Conditions for participating in our courses
Privacy Policy
How we manage your personal data
For a smooth flow, reserve your spot at least 2 months ahead.
Deposit

A deposit of 500€ is required to reserve your spot. The remaining balance is paid 30 days prior to start. Please read more for payment methods and refunds at Ayama Yoga Training Payment & Cancellation Policy.

Which airport should I choose?

The closest international airport is the Indira Gandhi International airport of India in New-Delhi, which is approximately 300km from Neoria near Pilibhit Tiger Reserve, where the school is located. We recommend arriving a day earlier if possible, to factor in any flight delays and give yourself time to adjust to the new time zone and climate.

How can I reach Neoria from Delhi?

BY AIR. If you are visiting India for the first time then it is better for you to take a domestic flight from Delhi to Bareilly (city nearby).

BY TRAIN. Another option is to travel by train. From Delhi airport to the train station by taxi approximately US$ 15 then by train either to Rudrapur or to Bareilly approximately US$ 15. Both cities (Rudrapur & Bareilly) are 70km from Neoria. From there the school's car will pick you up and drop you to school after 1hr and 30minsmooth drive free of cost.

Visas

Everyone needs a visa to come to India no matter from which country you are. You should apply for E-TOURIST VISA. Be aware that there are many expensive visa agencies. The easiest and safest way to get an e-visa is by applying through the official website of India (click here).

Weather

November to February – Arguably the best time of the year. November and December are moderately cold, January is the coldest and February is mild. You should bring warm clothes, woollen, jackets and scarfs. Heaters during December and January are not provided. Woods are out and enjoy bonfire under clear skies. Organic vegetables are in abundance for rich supplies of minerals and vitamins through soups and salads. Woods are out and enjoy bonfire under clear skies.

What's included

This Yoga Teacher Training in India at Neoria is residential and includes accommodation in twin bed room, breakfast, afternoon snack, dinner, water, tea, tuition fees, access to digital library, your study manual (2 books) and transport from Bareilly airport or Rudrapur train station. Meals are provided every day during the course, except your days off.

What to bring

Defintely bring your own medications if you follow a treatment. We provide yoga mats if you need one but we recomend you bring your own yoga mat and if you use a specific prop for your condition. Yoga blocks & stripes are available for the students in our yoga shala.
Read more about traveling in India at
The Well-being
of the World
Starts with You!