Our Story
The core and soul of Ayama Yoga is Christos Krishna Charikiopoulos. However, the value of Ayama Yoga consists of all the teachers who make up our team. It all started back in 2005 when Christos founded Ayama Yoga with the dream of communicating yoga in Greece.
Since then thousands of students have taken yoga classes in our studio located in Athens. From 2010 we provide RYS 200 Yoga Teacher Training Courses and since 2014 we offer the RYS 300 Advanced Yoga Teacher Training Course. We have completed almost 30 Courses until now with hundreds of graduates.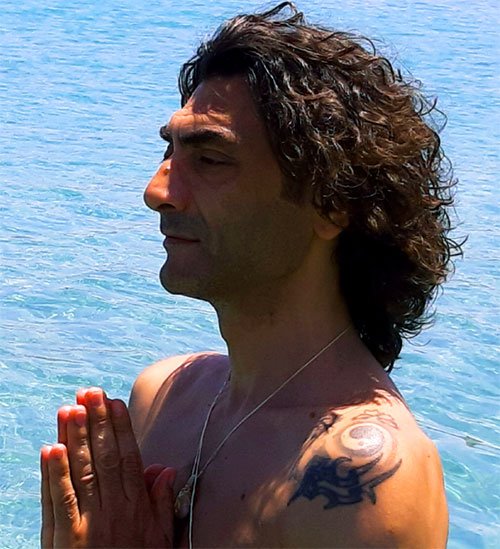 Almost each one of our faculty teachers has a diploma of RYT 500 hrs and they have been members of Ayama Yoga team for many years. Our intention has always been to promote the ancient philosophy of Yoga and adapt it into modern everyday life. In that way we offer yoga practices for our students that promote Knowledge, Inspiration, and Evolution. We dream to create a conscious community that shares similar values and the same passion for self-awareness. We honor breath in every yoga pracrice for it is the foundation to create awareness, connection, acceptance and freedom for mind, body and soul.
In our Yoga teacher training we help you learn how to teach yoga in a way that suits your personality and style. So that when you step onto the mat with your students, they feel like they're getting their money's worth. You'll learn how to make sure that everyone feels welcome and comfortable in their own body. You'll also get a chance to learn how to practice compassion for yourself and others—something that will help you remain calm even when things get chaotic around you.
The words of the famous Indologist Georg Feuerstein express in a very descriptive way how we experience and communicate yoga.
"Yoga is a great adventure, I think it is the greatest adventure of all. It will take you into completely new territory and confront you with the tallest peaks of spiritual realization and the deepest trenches at the bottom of your own unconscious. If you allow yoga to transform you, it will do so at the physical, mental, moral and spiritual level. Whatever type of yoga you pursue, in the end it will set you inwardly free. It will bring you understanding and joy, and the capacity to face any situation fearlessly."
Yoga teacher training is a great way to deepen your understanding of yoga and help you grow as a teacher. Our courses are designed by experienced yoga teachers who want their students to succeed. We cover everything from anatomy and physiology to the history of yoga, so you'll be ready to teach right away. We have courses all over the world, so whether you're interested in becoming a yoga teacher in Greece, India or Bali, we have options for you. Come join us today and take your practice to new heights!
Learn more about our yoga teacher training course and how we can teach you to be the change you want to see.
"A journey of a thousand miles
begins with a single step"
Are You Ready?
Read more about our signature program
AYAMA YOGA TEACHER TRAINING RETREATS
Take your pick and Join Us!
Hand picked destinations! Each one vibrates it's own unique energy, ideal to help you immerse in a yoga teacher training course.
Read what they say about us
I searched a lot to find the right place to do my yoga training and Christos from the first moment made me feel safe as I had little experience. It was the best choice I could have made… It opened up roads that I didn't know existed… The whole team is amazing, very well organized and the retreat in all is a unique experience!
I attended the 200-hour training program in 2018 after an extensive search to find the right place and people to help me discover the world of yoga beyond mat practice. Christos was that person who, from the very first conversation, made me feel warm and confident about what would follow.
I completed my training in Ayama 2 years ago. I would go back in time and relive it if I could. Knowledge with substance, love and care. Proper guidance for development and support. For me, now, Ayama is a nest that I can return to whenever I need to.
A yoga training program that gave me the strength, in addition to being a lifelong student of yoga, to also share the path I walk and continue to learn. I am thrilled with the experience and highly recommend it. I thank all the teachers of Ayama Yoga House for the endless knowledge they generously share.
I feel deeply grateful to have had the opportunity to complete Ayama's teacher training program. The essential knowledge, the effective method, the holistic approach and of course the wonderful teachers helped me delve into the philosophy & practice of authentic yoga
Each teacher with their own gifts, always willing to help us. They supported me to overcome my physical and mental obstacles. Thank you for everything!